Instructors
Rick Stockton
Rating: 141 Chief Instructor, CFI, CFII, MEI, Rotorcraft
I grew up on or near an Air Force Base as my father was a Flight Engineer on the B-29, B-50, B-36 then the KC-97. I knew a lot about these planes from reading everything I could find. I think I surprised him a couple of times telling him things about the B-50 that were supposed to be secret. I read all about it in the Saturday Evening Post.
When I started working delivering newspapers I bought every plastic model available. When we moved to McGill A.F. Base I got into U-controls Radio controlled airplanes. I soloed my first airplane on my 17th birthday at Dow A.F. Base, Bangor, ME. In 1962 I was in Texas and watched a flight of OH-23 Army helicopters fly over our house. The next day I was in Ft. Worth talking to the Army recruiter. He told me I'd be a helicopter pilot in no time. He lied!
[Read More...]
Instead, they made me a helicopter mechanic and sent me to Korea. I spent one year there and kept trying to get into the Warrant Officer program with no luck. Then to Ft Eustis, VA for CH-47 Chinook helicopter school then to Ft. Benning, GA until 1965. Within six weeks I was back in Korea as a civilian working on Army helicopters. I spent time all over Asia, then in 1967 I came back to the U.S. and went to flight school at Ardmore, OK. I picked up my Commercial SEL, Instrument and CFI. I then headed towards Ft. Worth and picked up my Helicopter Certificate and Airframe & Power plant rating. It was back overseas to Korea again. I taught at the Seoul Flying Club on weekends.
A year later, I was back in the U.S. and started flying at Flight Safety, Hayward, CA as a Flight Instructor in their 141 program. Two years later I started my own maintenance business, then Oakland Police Department offered me a job as a pilot, but I had to become a Police Officer. I was teaching part-time out of the Hayward airport for Fremont Flyers almost every day. In 1982, I took a job with East Bay Regional Parks and started flying their Hughes 500. In 1986 I left and went to Las Vegas and started flying a Piper PA-31 from Las Vegas to the Grand Canyon so I could build my multi-engine time. In September of that year I headed to Yellow Stone to fight fires in a Sikorsky S-64 helicopter (twin engine). After the fire season I started flying a Piper PA-31 carrying cargo for DHL while working as a mechanic between the morning and evening flights. In 1988 I went to work for Eastern Airlines as a Co-pilot on the Boeing 727 until the airline closed.
Back in the Bay Area, I worked five part-time jobs, flying an airplane, a helicopter, teaching at a local college, doing annual inspections and acting as Chief Pilot for a helicopter company. I also worked with Professional Instrument Course. I'd go to a person's home and give them ten days of instruction to get their instrument certificate. 1993 found me in Pago Pago flying a helicopter off the deck of Tuna Boat. I then went to Alaska and flew for the summer then back to Pago Pago. I was told by a couple of friends that the FAA would be hiring so I stayed on shore in the fall of 1995 and joined the FAA in May as a Federal Safety Inspector. After retirement, I joined WINGS Flight School as Assistance Chief and ultimately Chief instructor a couple of years ago.
Chris Waslohn
Rating: 141 CFI, CFII
Chris began flying in Watsonville, CA while attending UC Santa Cruz earning his Private Pilot Certificate in 2007. Ever since he has been focused on sharing his love of flying with just about anyone who will listen.
Focused on curating experiences in the airplane to encourage growth of student pilots, he seeks to guide and mentor those pilots to cultivate attitudes of humility, safety, and accountability.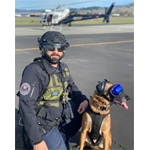 Jordan Brosowsky
Rating: 141 CFI, CFII, MEI, Assistant Chief
Jordan has been serving in the U.S. Coast Guard since 2005. He is currently assigned as a K9 Handler, patrolling Northern California. Jordan's passion for aviation came about while he was stationed in Hawaii, assigned to a tactical team that utilized helicopters as their primary mode of transportation. He thoroughly enjoyed taking in the views of Hawaii with his legs dangling out of the door. Though, his gaze would routinely wander to the flight deck.
Jordan decided that he would rather be the one flying upfront instead of riding in the back, and that was the beginning. He was lucky enough to complete his primary and instrument training in 2013 while living in Hawaii. His Commercial and Instructor Certificates were earned right here in the Bay Area. He is currently pursuing a Bachelor of Science in Aviation and hopes to move to the airlines after he retires from the Coast Guard in 2025.
Malcolm Lenson
Rating: ATP, 141 CFI, CFII
My journey to flying for a living started with a $5 Discovery Flight at Gnoss Field (Marin County) in 1975. Juggling working as a printer and taking flight lessons, I received my PPL about 7 months later and headed over the hill to a dirt strip in Schellville for aerobatic training. This decision was a result of being left with "Fear of Stalling" syndrome - something that the method of flight instruction at that time seemed to cause a lot of. After a couple of years turning Decathlons & Citabrias inside-out, I received a MEL in 1978, an IFR rating the next year, and a Commercial Certificate in 1980.
[Read More...]
After a successful career in the printing business I decided it was time to work on my Glastar homebuilt and pursue a CFI Certificate which I received in 2000. The next few years I worked as a CFI at the Napa Airport, followed by 5 years of aerial mapping until the mortgage mess had a negative impact on the company's business. I went back to Napa and eventually became Chief Pilot at the Napa Jet Center Flight School, and flew P.t 135 in their charter department. I retired in 2017 with over 4700 hours as a CFI and spent the past few years "flying" my BATD (located in my home here in Vacaville) and occasional flights with aircraft owners. It's pleasure to be back in the left seat teaching again.
Brandon Buckley
Rating: 141 CFI, CFII
My name is Brandon Buckley, but everybody calls me Buckley. I've been flying since I was 14 years old and solo before I got my drivers license. I got my private at 17 out in Sacramento. Then I attended an aviation college and received my Bachelor's of Science degree in Aeronautics and the remainder of my certificates. I'm a Northern California native and couldn't imagine myself doing any other job than flying.
Paul Osterman
Rating: 141 CFI, CFII
Paul grew up near Redding, California where he would fly with his father out of Benton Airfield. After graduating from Chico State University, he spent about eight years in the Marine Corps and was a mechanic on F/A-18s. After being stationed in San Diego and Iwakuni, Japan, he moved back to the Chico area where he earned his private pilot license. He continued with the rest of his ratings at Wings Flight School through Liberty University. Paul has enjoyed sharing his passion for aviation with others, taking friends and family flying, and now teaching others how to fly.
Angelo Gabriel
Rating: 141 CFI, CFII
Angelo has always wanted to be a pilot as long as he can remember. His profound fascination of flight has been and will always be an inherent trait of his. He learned how to fly shortly after graduating business school in his hometown, Manila. He obtained his private pilot certificate in Canada, then all certificates and ratings after that were completed in the northern California area. He aims to share his passion for aviation and produce safe and competent pilots.
Alvaro Garcia
Rating: 141 CFI, CFII
Alvaro is a dedicated CFI/CFII and passionate aviation lover sharing skills, and knowledge of flight, while joyfully embracing every moment in the skies.
Carlos Morales
Rating: 141 CFI
Carlos' love for aviation began when he and his family took their first airline flight to Florida for vacation when he was a toddler. He knew he gained a spark for flying when all he looked forward to during the entire vacation was the flight back home, just to get back on the airplane. His passion only grew bigger for aviation as he grew up. Carlos did all of his training here at Wings Flight School, so to say he flies at home is an understatement.
[Read More...]
Carlos is always excited and honored to pass on his knowledge and experience to people ready to take on the skies, and continues to set goals to never stop learning.
Preston Dougherty
Rating: 141 CFI
I have been involved in general aviation at the Nut Tree airport since a young age. Sunday afternoons were spent hearing the stories of the greatest generation in their waning years and picking up as much as possible. I started flying through the EAA's Young Eagles program as soon as I was old enough. As a teenager, I would go for a dual flight at WINGS occasionally, but I never had the money to dive in all the way.
[Read More...]
I began training at WINGS full time in the summer of 2020 while on a COVID break from college. I earned my Private in January of 2021, and Instrument, Commercial Single Engine Land & Sea, and my Flight Instructor certificates came soon after. I have also worked on earning a degree through WINGS and their partner Liberty University. I have experience in Single Engine Land & Sea planes, and hold my Complex, High Performance, and Tailwheel endorsements.
I am excited for the opportunity to share the aviation knowledge I have accumulated thus far with others and help aspiring pilots to achieve their goals.
Richard Payne
Rating: 141 CFI
Rich Payne dedicated his life to aviation. Rich has a Bachelor's in Professional Aeronautics, with a minor in management from Embry-Riddle Aeronautical University (Summa Cum Laude), and three Associates degrees in Technical Instruction, Aircraft Maintenance, and Professional Aeronautics. Rich also has an A&P, retired as a Maintenance Group Chief from the Air Force after 28 years, and earned an AGI certificate. Currently, he is working on an Aviation degree from Liberty University to launch his flying career. Rich is a long time RC flyer, fixed F-15s for many years, and finally reached his dream job here at Wings Flight School as a CFI.
David Garalde
Rating: 141 CFI
When I was 17, I took my first flight in a Beechcraft Skipper here at Nut Tree. It was my first introduction to general aviation and I was hooked. Ever since that flight I knew I wanted to become a pilot and I was eager to explore all of the different facets within aviation. At 19, I started training towards my private pilot and earned my license about a year later. Soon after completing my private, I enrolled in an aviation maintenance program to grow my knowledge of aircraft systems and ultimately get my airframe and powerplant mechanic certificate.
[Read More...]
As I continued to fly and gain experience, I became convinced that a career as a professional pilot was what I wanted. I went on to continue my advanced flight training for instrument, commercial, multi-engine and eventually CFI. As of September 2021 I have been actively flight instructing and I plan to continue sharing my aviation expertise with others.